I am so, so excited to kick off a new series here today. As someone immersed in the creative field, and someday hoping to be able to form my own full time business, it's easy to romanticize the life of an artist... working in a well lit space with a cup of good homebrewed coffee, taking a long lunch and meeting a client at a coffee shop...taking a mental health day if I need it to spend the day in the city seeking out inspiration...In fact, the day to day work to make a living as an artist is hard. Rewarding, but damn hard. I have a fierce admiration for artists who are making it work, and making the world a better place by sharing pieces of themselves and inspiring others. So I am excited to start off this series featuring Georgia Dunn, an illustrator and watercolor artist based in Washington.
I was first introduced to her work by my friend Katie when we were both pregnant and in the midst of dreaming up nursery decor. Katie and Georgia had gone to school together in Rhode Island, and I immediately fell in love with her style and all of her cute characters. Many of them pulled at my nerd-loving heartstrings, and I had the hardest time picking out what I wanted to display in Lily's room. Each piece I clicked on I loved more and more. I finally decided on her Monster Parade of Cute Fuzzy Monsters. It fits perfectly with our "imagination and adventure" theme, and it's now hung over our reading and snuggle chair.
So without further ado...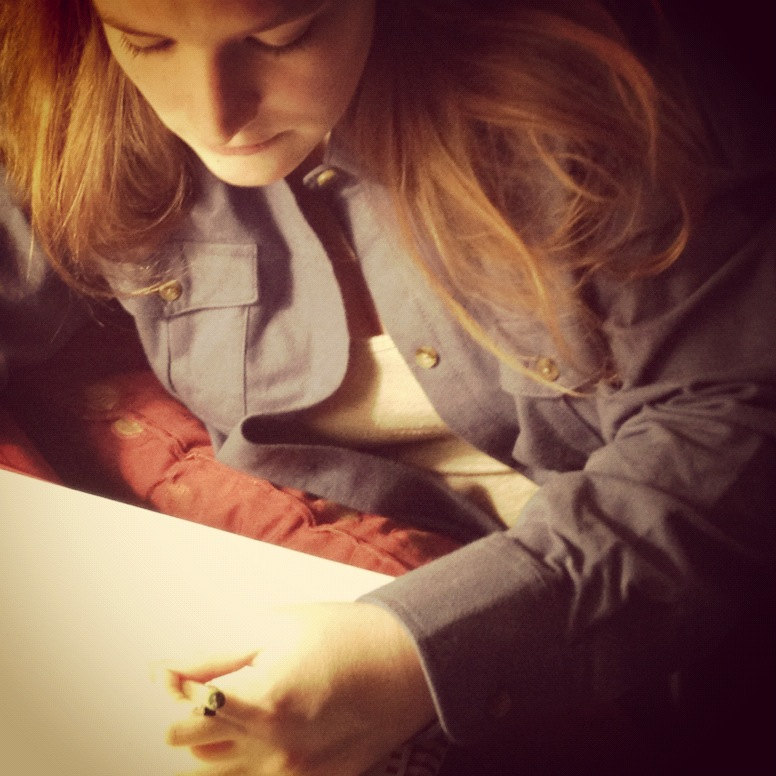 Artist: Georgia Dunn
Location: Washington State
Medium: Illustration and Watercolor
Describe a typical day in the life of Georgia Dunn.
I start the day by feeding our many fuzzy creatures, making breakfast, and brewing some tea. I usually spend the morning listening to the news, checking/restocking my Etsy shop, and working on a sketch (or continuing a painting, if I have one started). I try to have a sketch ready for inking and painting after lunch. When business is booming in the shop, I spend about three days a week painting in the afternoon, and two days painting, printing, and packaging Etsy sales. If it's a slow week, I just try to get a lot of painting in. There are days when painting stretches into the evening, (or very late evening, depending on how excited I get about a project) but I really try to stop myself around 5 or 6 to avoid getting burnt out.
How long have you been painting and illustrating?
I've been drawing since I was a kid. I knew early on I wanted to be an illustrator, and followed that path all through school and onto college. When I was 19, my Dad suggested I learn watercolors, and it turned out to be a perfect fit for my illustrating style.
Who or what inspires you and your characters?
I'm really inspired by Jim Henson, and artists like Tony DiTerlizzi, Sam Kieth, and Beatrix Potter. I enjoy children's books very much, especially old fairy tales and fables. Surrounding myself with art and illustrations I love seem to really keep me focused on creating my own. When it comes to characters, they often seem to appear without warning and sometimes nearly draw themselves. Right now I have a picture of 3-4 lumberjack beavers developing in the back of my mind from a joke my husband and I share that an old logging town near us was originally settled in the 1800s by beavers. When we drive through that town we take turns telling the history of the imaginary original beaver settlers, like we're filming a documentary. In that case, the illustration becomes a way to record a ridiculous idea or memory that otherwise would just drift away. My hope is that whatever I enjoy about the painting I create, the viewer will feel it too and I can share whatever silly thing I'm seeing inside my head with them.
What is the most challenging aspect of being an artist for you right now?
Staying in a creative mode. I'm expecting a baby in April, and that typical day I described above has been thrown off the track lately whenever morning sickness or fatigue have shown up to hang out with me in the studio. Before I was able to create 1-2 full illustrations a week, and that pace has slowed considerably the past few months. Finding the balance between work and motherhood will be my biggest challenge going forward, I think, like many Moms.
What's next for your studio?
My ultimate goal is to illustrate a children's book. I'm working toward making that a reality sometime in the next 3-5 years.
What's your favorite color?
I'm a big fan of light blues!

What is your favorite dessert?
A banana split, I love those.
GIVEAWAY
Georgia is sweet enough to offer one lucky reader a free 8x10 print of one of her pieces from her Etsy shop! To enter, simply
visit her shop
, pick out a couple of your favorites (because let's face it, you just can't pick one), and leave a comment here telling me which ones you love! The winner will be chosen at random and announced next Friday, March 8. All entries must be made by 11:59pm EST March 7, 2013.
Also, feel free to show your support by
becoming a fan on Facebook
,
following her on Twitter
, and
reading her blog
as she eagerly gets ready to welcome her sweet baby into the world!
Georgia, thank you so much for giving us a peek into your world! I can't wait to "meet" your little one!